Do it yourself (DIY), make a 3D printed custom gift online.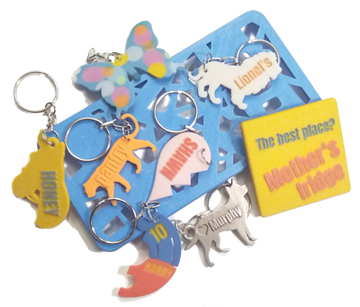 On our site, you can create your own creative 3D product in the virtual space with a web based application. Do not be afraid 3D modeling is not as complicated as you think and install no software at all. But to help, we've put together some tips and tricks to make it easier for you. We will materialize your creative products with 3D printers, so we keep in mind that what you should pay attention to here. 
Where can I start the online 3D product configurator?
At each product pages where you can see this button. Let's customizeYou can try it here, but if you have not been there yet, it is worth reading.
(The 3D configurator does not work on a mobile or smartphone due to the bigger screen size required! Please visit us again as soon as you are near a desktop or laptop.)
---
2. How to navigate in virtual space?
If you have never used a 3D program, we recommend that you first try to rotate and move the 3D model for the first time. To do this, hold down the right mouse button or roller and move the mouse. To zoom in and zoom out, move the scroll wheel of the mouse. Try this icon,

click on any side of the cube and see what's happening.
---
3. What should be the first step?
As a first step, we recommend that you choose a material and a basic color then adjust the sizes you need for your unique product.. You can, of course, change them later, but you can get rid of many unnecessary steps if you already have the basic features of your personal product at the outset.
---
4. Where can I choose material and color?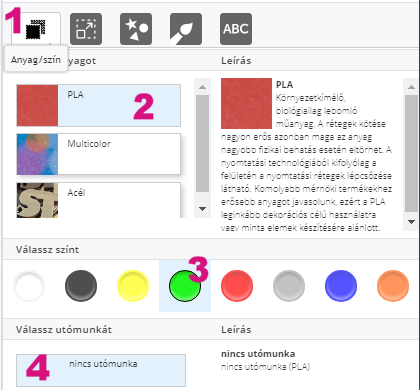 In the Material / Color menu (1), you can choose material (2), color (3) and finishing work (4) for your unique idea - you can still change it later.
For 3D material properties you should check out here: 3D printing materials
For the most 3D printers material, only one color can be used for a model, but if you choose Multicolor, you can play with all the colours of the rainbow and create truly personalized designed gifts.
---
5. I chose Multicolour material, what to pay attention to?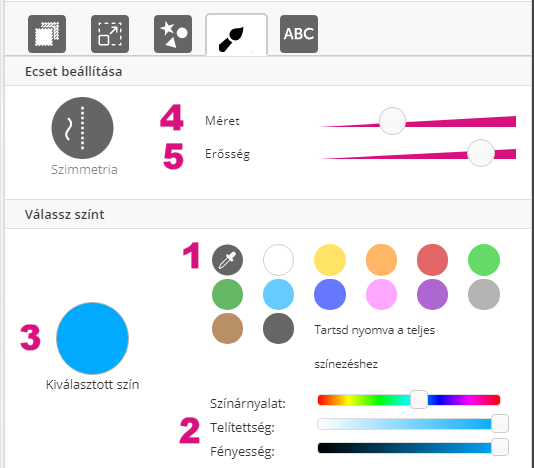 From the Color menu, you can choose from predefined colours (1) or mix a completely unique color (2) yourself. Having done that, you can colour your model by clicking on the circle icon (3).
Look out: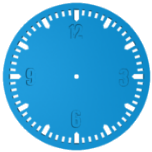 By holding down the circle icon for a longer time, the entire model will be recolored, which you can paint over to any colour at any time.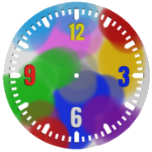 If you just click on the circle icon, you can use the mouse as a brush to paint a part of the model. You can set the brush size (4) and its strength (5). It is worth taking the strength of the brush as big as possible, depending on how much you want to colour. You can use this brush to create a coloured model as well.
---
6. Where to set the size of my custom product?
You can set the size of your individual product in the "Size"

menu item. You can also check the exact size here, but this is also printed constantly over the Cart button.
What you should pay attention to:
the price of 3D printing depends on the volume of the model, so if you want to optimize the price of the product, it is advisable to lower the unnecessarily large or thick size
on the monitor you may see the model larger or smaller (due to enlargement or reduction) as it is in reality and when will be finally printed
---
7. What can be the size of a 3D print product?
You do not have to pay special attention to this, because if you set a size that can not be printed, that 3D product configurator will tell you. The maximum size of a model depends on the type of 3D printer, because the printable volume cannot be any size. The minimum size was set to 2 mm for practical reasons. For more information on 3D printing technologies see: 3D printing technologies
---
8. Engraving, Embossing?
Once you have set the base colour and material of the model and the main dimensions you will have more options for engraving or embossing your custom product.
You can apply the "Stamp"

to "Text"

and "Image"

menus.
Suggestions:
On the monitor may see larger or smaller size engraving or embossing (due to enlargement or reduction) as it is in reality and when will be finally printed. Therefore we recommend that you try to make patterns and font size larger than 4-5 mm.
When using Multicolour material, it is advisable to use a color other than the base model color for placement of stamps and individual texts, so the result will be much nicer
Note:
Engraving, embossing will be perfect if you try to position it perpendicular to the model surface. If it is not perpendicular to the model surface it can be more easily damaged and visually inappropriate on the 3D printed product. To adjust the perpendicular view, use the "Cube"

icon.

It is especially important not to put patterns and / or texts on top of each other. And if you have an engraving or embossing problem, do not try to put it in the same place again, but go back

one step and put it down again.
---
9. How do I put a pattern, text, image on the model?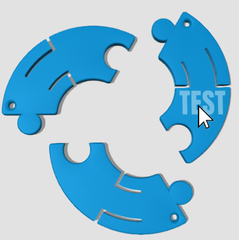 After you have set the pattern, text, image properties (color, size, embossing, gravure, etc.), drag the mouse over the model and place it on the product with the left mouse button.
---
10.I spoiled what to do?
To undo the latest steps, use the "Back" icon:


To completely re-design your custom product, use the "Restore" icon:

---
11. I want to continue later, can I do it?
Do not have time to finish it? You can save your unique product and resume it later. To do so, use the "Save" button. Please note that in the absence of "My Account", you may lose your saved design by leaving the website. Therefore let's start create your own Account.
---
12. What else to know?
If you are stucked during design, use the icon
Online 3D design has memory limitations, so if your model becomes too complex, you may have to finish the job. However, we will notify you of this.
Not all functions and menu items are available for each product.
Not all materials are available for each product.
We recommend using Google Chrome or Firefox as the configurator has been optimized for these browsers.
---
Try it now!
---