Custom License Plate Keychains - 3D printed gifts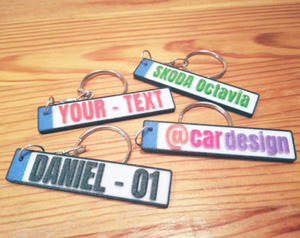 Szeretnél egy rendszám alakú kulcstartót egyedi felirattal? Jó helyen jársz. Egy egyedi 3D nyomtatott ajándéktárggyal ötletes és kreatív meglepetést okozhatsz bárkinek a mindenkit elárasztó tömegtermékekkel szemben. Ne feledd a kulcstartón szereplő szöveg bármi lehet, csak a Te fantáziádtól

függ, hogy mit írunk bele. Pl.: rendszám, keresztnév, becenév, cégnév, helyiség, autó-, motor márka, szerviz neve, stb.
Mit kell tenned?
Két lehetőséged van:
1.) Rendeld meg közvetlenül itt (https://www.manubim.hu/license-plate-keychain) és írd meg nekünk (a megrendelés végén a Megjegyzés rovatba), hogy milyen feliratot és milyen színben szeretnél látni az egyedi rendszám alakú kulcstartón. Ha bizonytalan vagy valamiben írj nekünk info@manubim.com
2.) Készítettünk neked egy 3D-s modellt, ahol testre szabhatod a kulcstartót és azt rendelheted meg amit saját magad készítesz (digitális DIY

). Ebben az esetben több lehetőséged lesz, mert az egyedi szövegen kívül állíthatod a rendszám méretét és át is színezheted, ha akarod. Ráadásul így még olcsóbb is, hiszen a munka egy részét Te magad végzed. (Ez a funkció csak táblagépről vagy asztali számítógépről működik) Segítségül készítettünk neked egy videót:
Szeretnél egy másik modellt?
Ötleted támadt és szeretnél egy másik modellt? Írj nekünk bátran. Számos kérést megvalósítottunk már a 3D nyomtatás segítségével. Készítettünk már Barracuda kulcstartót vagy éppen fitnesz step pad kulcstartót is. Nálunk akár 1 db-tól is rendelhetsz (nincs több száz darabos minimális rendelési mennyiség

), de egyéni igényeknek megfelelően baráti társaságoknak, iskolai osztályoknak vagy kisebb vállalkozásoknak is készítünk kulcstartókat.
---
You can personalize this product with an easy to use online 3D modeler, then we will 3D print it for you. Get started by pressing the LET'S CUSTOMIZE button!
Let's Customize
Custom License Plate Keychain. Make it unique write a custom text or your license number and emboss or engrave it. You can choose from different materials and colours. The medal is made with 3D printing.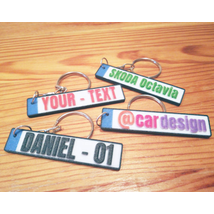 License Plate shaped keychain with custom text.
Showing 1 to 2 of 2 (1 Pages)
Custom Gift ideas
Number plate behind the windshield? Everyone already has it - You want your own, this is why you are here! Give a license plate key holder - write a cool car brand, your sweet message, your boyfriend's bucket lists destinations and surprise anyone with it.
Did you come up with ideas and want another model?
We have implemented many requests with 3D printing. We have already made Honda Civic Shaped Keychain, Fitness Step Pad Keychain, Owl Bookend or HIP-HOP Penholder as well. You can order us from 1 piece (no minimum order quantity of hundreds of pieces

) but we also make souvenirs for friends, school classes and smaller companies according to individual needs.