Custom Names, Texts Keychains - 3D printed gifts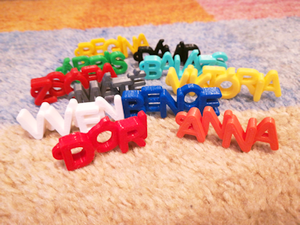 Szeretnél egy egyedi névvel, szöveggel ellátott kulcstartót? Jó helyen jársz. Rendelj a saját neveddel ellátott kulcstartót, hogy mások ne tévesszék össze.

 De bármilyen egyedi szöveggel, üzenettel, idézettel ellátott kulcstartót is elkészítünk neked.
Ne feledd egy személyes 3D nyomtatott ajándéktárggyal mindig ötletes és kedves meglepetést okozhatsz bárkinek a mindenkit elárasztó tömegtermékekkel szemben. 
Mit kell tenned?
Két lehetőséged van:
1.) Közvetlenül rendelhetsz már meglévő neves kulcstartóinkból vagy
2.) írd meg nekünk mit szeretnél (nevet, becenevet vagy bármilyen rövid szöveget) és elkészítjük neked!
---
Showing 1 to 11 of 11 (1 Pages)
Custom Gift ideas
3D Print your name and use it as a keyring! Or your friend's or girlfriend's name / nickname and give it as a personalized gift! Suprise your loved ones with a unique car-key chain with the nickname of their favorite car! This unique gift is certainly not to be found in stores!
You can use our unique inscriptions as a name plate, for example in group sessions, there will be no problem calling the participants and you have also had a favor for them. Check out our samples and order from them, or write us what kind of a name or word you would like to have with 3D printing!
Did you come up with ideas and want another model?
We have implemented many requests with 3D printing. We have already made Honda Civic Shaped Keychain, Fitness Step Pad Keychain, Owl Bookend or HIP-HOP Penholder as well. You can order us from 1 piece (no minimum order quantity of hundreds of pieces

) but we also make souvenirs for friends, school classes and smaller companies according to individual needs.