HOW DOES 3D PRINTING WORK?
3D printing is commonly referred to as an additive manufacturing process. This means that the product is built up layer by layer so the advantage that virtually no waste compared to the subtractive (extraction) methods. These layers a few tenths or micro-millimeters thick. In reality, it works like that a digital 3D model on the computer is slid into thin layers such with a software (for example, imagine a vase that should be slid horizontally to about 1,000 to 10,000 thin layers depending on the manufacturing technology), then these layers are 3D printed one another on each other.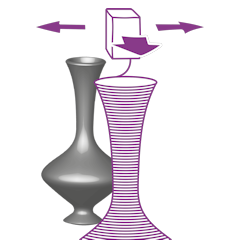 Of course, you've discovered that the thinner the layers of a 3D printer prints, the more accurate and smoother the physical product will be and the more layers you need to print printing will take longer time. There are many 3D printing processes, and their number is constantly expanding. The goal almost everywhere is that the thinner layer to be printed and more and more quickly. Thanks to the 3D printing technology improvements more and more 3D printing materials are available. The most widespread are the PLA, ABS, PETG plastic 3D printing materials the steel, bronze and aluminum metal materials and the Multicolor or Full color 3D printing material.
Find out more about the most common 3D printing technologies
Find out more about 3D printing materials
THE ADVANTAGES OF 3D PRINTING
The advantages of the development of 3D printing technology:
Reduces the production time of a prototype of a product
A number of obstacles are released that cannot be solved by traditional manufacturing methods
Loss of material is reduced
No need to create separate individual tools, production lines for manufacturing
Since the product is made from a 3D digital model (file) with a suitable 3D printer can be printed anywhere in the world.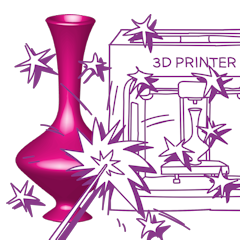 All these advantages make 3D printing truly suitable for customized 3D printed gifts and products. While traditional manufacturing technologies are only economical if the product is used by thousands or hundreds of thousands and the first prototypes are expensive, then 3D printing will make it possible to create a unique product/design exclusively for ourselves. With an easy-to-use 3D modeler, anyone can quickly model their own personalized products.
WHERE DO YOU USE 3D PRINTING?
3D printing has a wide range of uses and, as mentioned above, one of the great advantages of creating unique customizable 3D printed gifts and products. It is used in many industries for prototype manufacturing eg. Car or airplane production to produce prototype parts. There is also a medical field where 3D print prostheses or implants are used to repair injuries. Very common use in architecture for printing 3D modeled buildings. But it's also widespread among jewelers.
One of the most extravagant and inventive uses that we've heard it is a 3D printed restaurant Food Ink, ( http://foodink.io/) where apart from meals, dishes, cutlery and even chairs are made with 3D printing. And you can also experiment with many other unique projects where this technology is used. For example, within the framework of The Unseen Art ( http://www.unseenart.org/) project, blind painters are making classic paintings as 3D reliefs.
HAVE YOU EVER HEARD OF INDUSTRY 4.0?
The Fourth Industrial Revolution (Industry 4.0) links the virtual reality digitization and the physical world. Digitalisation also means that huge data (Big Data) is generated either in factories or on the Internet which requires serious information backgrounds and analytical skills. Industrial technological processes and as a result, our everyday lives are changing dramatically just think about drone technology robot technology or self-driving cars.
3D printing is also part of this paradigm shift primarily in the field of custom mass production. More and more people want unique, personalized products, gifts, so we call this unique mass production.
---