The 3D photo is a really rare and unique gift. Capture the most beautiful moments with a special 3D printed gift. The 3D printed photo is based on the principle that the object transmits the light differently through the various thickness of white layers. Normally, the 3D image only looks like a white embossing, but when it is turned towards the light (i.e. backlit) for example placed in front of a lamp, the grayscale photo immediately appears. Where the print is thinner, the image will be lighter, where thicker, the photo will be darker there. This technique (lithophane) was originally used for thin porcelain plates in the early 1800s.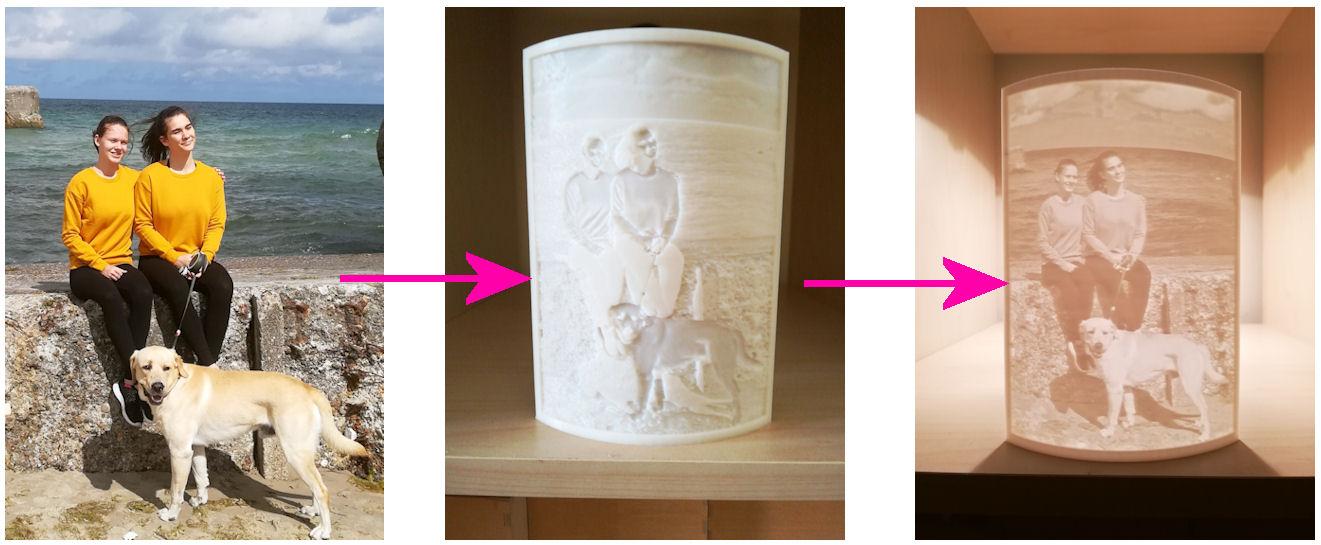 Design
At present you can order 3D photo, lithophane in curved design and three different sizes. Thanks to the curved shape, the product itself stops on any straight, horizontal surface. The 3D photo is made together with a smaller frame. The product is made of PLA (plastic) material with 3D printing. And if you want to order it in some other form or size, please feel free to write to us.
The process of ordering
Of course, we will need a photo of you to make the gift. After ordering, please send us an e-mail to info@manubim.com with the Order ID number (4-digit code) that you will find in the order confirmation email. The photo can be portrait or landscape too, it does not affect the price.
What photo should I send?
Actually anything that is a nice memory for you. A special family moment, graduation, wedding or your favourite pet, vacation etc. But if you scan an old family photo in good quality, then you can also send it to us. Don't worry, we will never use these photos in any form on our website or social media (Facebook, Instagram, Pinterest, etc.). If you want to display your 3D photo as a reference, you will be asked to give your consent by e-mail.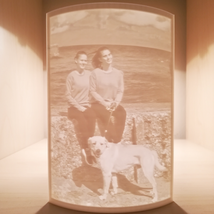 It is a truly original idea to present a 3D printed photo (lithophane). It may be a memorable moment about a family event or an intimate moment with your sweetheart about a summer excursion or about a graduation ceremony. Just turn the 3D embossing towards a lamp or any light source and the photo will be immediately visible. Send us a photo and order your unique 3D photo.
Send photo:
After you ordered the "3D Photo" product, email us the photo and the 4-digit "Order ID" code in the order confirmation email. Based on this, we will be able to identify which image belongs to which order.
Showing 1 to 1 of 1 (1 Pages)