A short history
The history of lithophane dates back to the early 19th century. It began to be used simultaneously in several European countries in the 1820s, but many attribute its invention to Baron Paul de Bourging. It is almost certain that it was originally started by ceramic factories and they perfected the manufacturing process. But some historians discovered its origins in Chinese porcelain production quite a thousand years earlier. In any case, lithophanes appeared in the product range of more and more porcelain and ceramic manufacturers in the 19th and 20th centuries.
Lithophane technology
The special feature of lithophane is that the object itself looks like an embossing at first, but if we illuminate it from behind with a light source (such as a lamp), we can see a photographic image. Although the lithophane appears to be an embossing at first, it is in fact different from classical embossings. To show a simple example, if we look at the embossing of a portrait of a black-haired man made from the front, for example, the thickest part will, of course, be the nose, as it stands out the best, but the hair will be backward (thinner). In the case of lithophane, on the other hand, the darker a part is, the thicker the object, i.e., the black hair stands out the most (the thickest) while the nose is likely to be much lighter due to light effects so it will be thinner. In a word, lithophane does not show the 3D topography of the real image, but the 3D topography of the dark/light shades.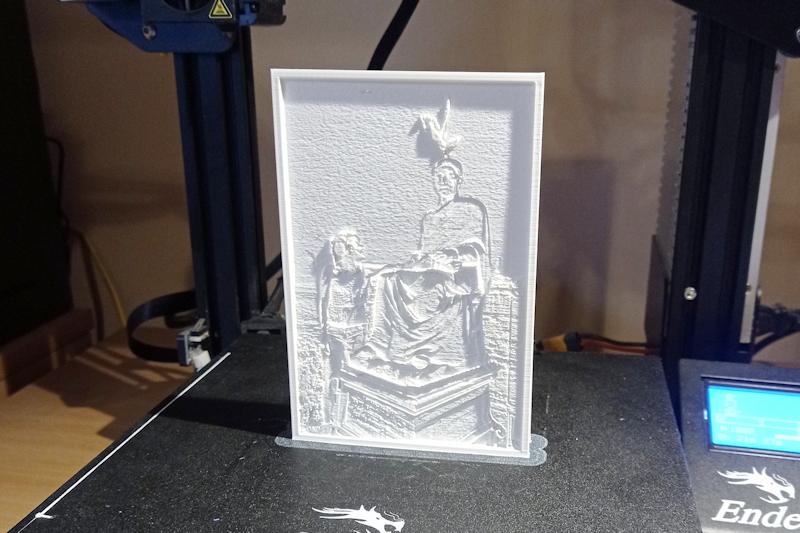 Lithophane on the bed of a 3D printer.
Of course, it is precisely from this that if we illuminate from behind, less light will filter through the thicker parts, making it darker, while it will be better filtered through the thinner parts, making it lighter. This is why many people today call these special lithophanes 3D photos.
Lithophanes in the world of 3D printing
As mentioned at the beginning, 3D printing has made this technology more and more popular nowadays, as a lithophane can be easily made from a photo (using a "small" pre-work) using a suitable 3D printer. Of course, to print really beautiful 3D photos, someone needs a lot of practice and experience, and last but not least, the 3D printing of a high-quality 10x15 cm lithophane takes approx. 7-9 hours.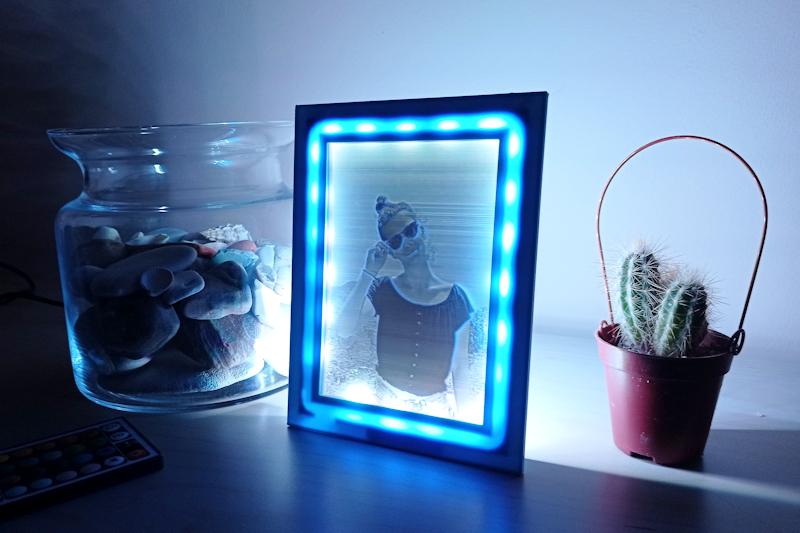 3D printed lithophane illuminated from the back in the frame with LED strip.
Looking around carefully, you can also find these special and imaginative 3D photo objects in our webshop, which are truly unique gifts for Christmas, weddings, or any festive occasion. One of our most popular gifts is a custom photo 3D lamp or the 3D Photo in Frame with LED light. But you can also order a lithophane without a simple light source or a keychain. In these cases, of course, the light source can be a lamp of its own or the grayscale photo can simply appear facing the sun. If someone uses their own light source, care should be taken to use an LED bulb or stripe because these 3D prints are made of plastic and care should be taken to keep them exposed to as little heat as possible.