Custom Fridge Magnets - 3D printed decorations
Customize these fridge magnets, order it and we will materialize it with 3D printers to you.
Personalise with texts, names, nicknames or any other fun messages or placing patterns (engrave or emboss) to smarten the fridge magnets. Do it Yourself (DIY) because a custom fridge magnet make a great and creative decoration item anytime against mass products.
How it works?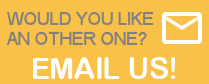 Read it how to use.
Showing 1 to 7 of 7 (1 Pages)
Personalised gift ideas
Do you think the refrigerator magnet is a boring gift? We also think that, of course, if you do not do it yourself. You can create personalized individual refrigerator magnet on our site so anyone will be impressed. Write a special message, color it to your liking, scale it as you like and give it to a friend, colleague.
Did you come up with ideas and want another model?
We have implemented many requests with 3D printing. We have already made Barracuda Keychain, Fitness Step Pad Keychain, Panda Bookend or HIP-HOP Penholder as well. You can order us from 1 piece (no minimum order quantity of hundreds of pieces

) but we also make souvenirs for friends, school classes and smaller companies according to individual needs.