What occasions do we recommend?
For Christmas, Easter
Of course, you can use it most often for making Christmas gingerbread and Easter small cakes. On these occasions the whole family comes together with children and grandchildren and this is when the little things made in the shape of family favorites can come in handy. In addition to the usual snowflake, Christmas tree, and star-shaped cookie cutters, you can make gingerbread cut-outs with kids' favorite animals or fairy tale figures, for example.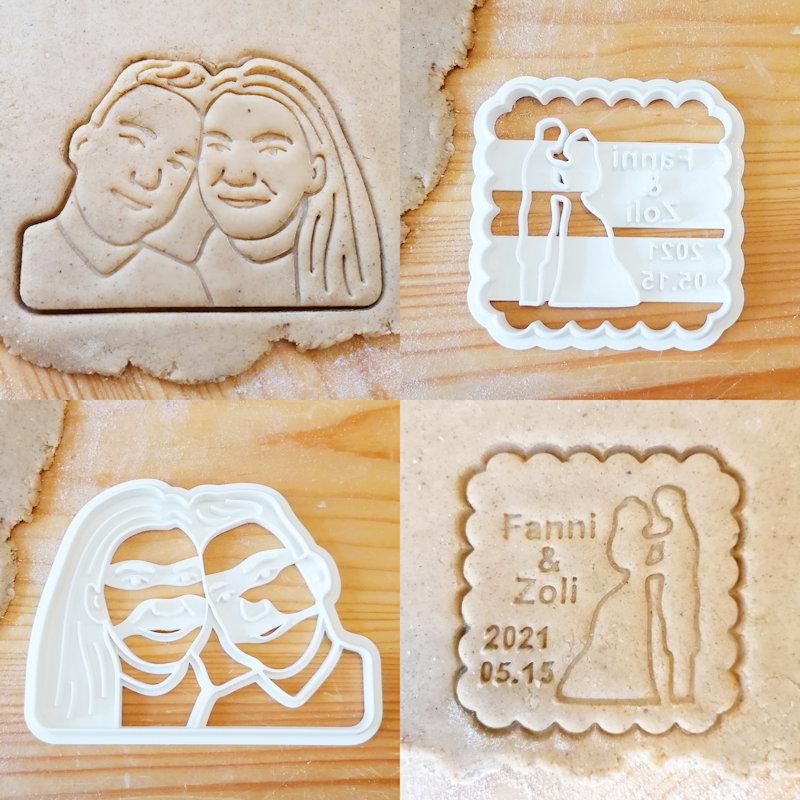 Cookie cutters for wedding
Your wedding is coming, and would you like to surprise everyone with something on the table? What could be more memorable, such as the little sweets on the table with your names and your wedding year? This biscuit can create with this custom cookie cutter for weddings.
But in the same way, you can make the wedding table really unique by making a portrait cookie from one of the bride and groom's love photos.
Next to a corporate gift
Promotional gifts are taken seriously by all businesses. Place a small cake with your company logo next to your gift.
You can even make a cookie cutter with the shape in the shape of a distinctive emblem of your business. Or you can make a cake printing set that has a unique inscription, company message or logo.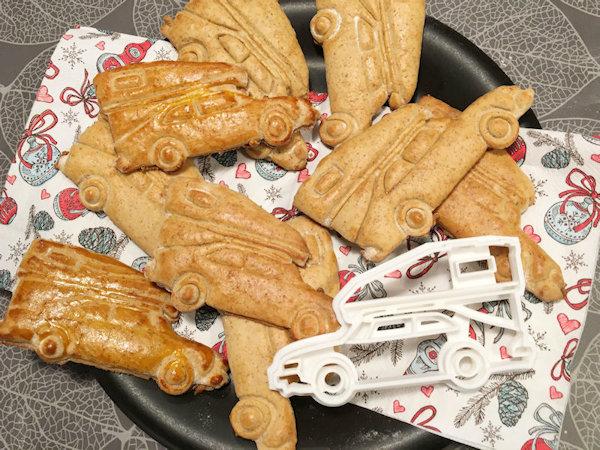 For other occasions
For any other occasion, you can get a nice little surprise by making a unique cake - whether it's Valentine's Day, Name's Day, Birthday or even a wedding anniversary.
How are these cookie cutters made?
These cookie shredders and embossers are custom made with 3D printing and are made of plastic (PLA or PETG). Generally speaking, puncture molds are made with a 5 mm rim to make it easier to remove the cake from the dough and can be used for a 8 mm thick dough. But of course, we can implement a 3D model of any size for individual requests.
How to use it?
Of course, just like any other cookie-cutter there are a few small differences from mass-produced metal staples. To make the dough easier to cut, you should coat the chop with flour or powdered sugar. Make sure the dough is of sufficient thickness and not too thick. This plastic is not dishwasher safe so please only wash it by hand with warm soapy water. And be careful NOT to place the cookie cutter in an oven or microwave, as this plastic cannot withstand high temperatures.
Finally, a delicious recipe
And if you've already honored your trust and read this blog post, we recommend this delicious gingerbread recipe, whether for Advent or Easter.
Ingredients:
• 3 eggs
• 6 dkg butter
• 50 dkg of flour
• 25 dkg of powdered sugar
• 10 dkg of fine honey
• 1 teaspoon of baking soda
• 1 medium lemon grated rind
• 1 spoon of honey spice mixture
• little salt
Preparation:
Begin the honey to heat in a saucepan over slow heat. Add the icing sugar and stir until it is liquid. Remove the pan from the stove, stir in the butter and let it cool. Stir in flour, salt, lemon grated rind, baking soda, and honey spice mixture. Add the whipped eggs to the cooled honey mixture, then pour the whole into the flour mixture. Combine the gingerbread dough as much as possible. Wrap it in foil and place it in the refrigerator for at least one day if you have time. The next day, knead the dough again, then spread the dough on a floured kneading board about 3 to 5 millimeters thin. Thoroughly dip cookie cutters into flour or powdered sugar and sprinkle gingerbread with them. If you want beautiful shiny cakes you can top it with whipped egg. Place the baking pan in the oven preheated to 180 degrees and bake for 8-10 minutes until they turn red.
Ask for our unique quote
Whether you are an individual or a company feel free to ask for an individual offer now and we will reply within 24 hours.
You can read more news here.
Follow us for the latest news:
---