Color Jet Printing (CJP) TECHNOLOGY
CJP 3D printing is perfect for creating multicolor imaginative, custom gifts. It is capable to build concept models, architectural and demonstration miniatures. ColorJet Printing (CJP) is an additive manufacturing mechanism what capable of full-color (multicolor) 3D prints. This technology involves two major components – core and binder. The Core™ material is spread in thin layers over the build platform with a roller. After each layer is spread, color binder is selectively jetted from inkjet print heads over the core layer, which causes the core to solidify. The build platform lowers with every subsequent layer which is spread and printed, resulting in a multicolor three-dimensional model. The final 3D printed product's surface 'feel to the touch' is that of sandstone. The thickness of the layers is approx. 0.1 mm.
Whether printed with color or in standard white, parts can be additionally clear coated to add a hard, smooth coating or wax coated to smooth out the surface finish.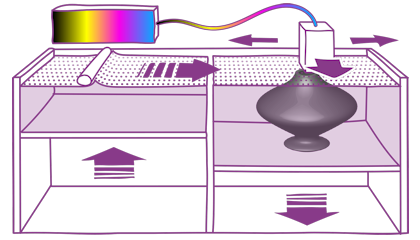 BINDER JETTING FOR METAL PRINTING
The metal 3D printing technology is really perfect for fully functional products like jewelry, accessories, home decors and any daily used objects, gifts. Many of metal materials can be used at additive manufacturing eg.: Titanium, Aluminium, Steel, etc. Binder Jetting is one of the 3D printing methods for metal materials that creates parts layer by layer with a binding agent. The process uses a liquid binding agent deposited on the metallic powder material, layer by layer, according to your unique 3D design. Between each layer, the powder is lightly cured for solidification. The thickness of the layers is approx. 0.02-0.10 mm. Once the printing process is complete, the build box is removed from the 3D printer and placed into an oven for curing and your custom item is sintered. When this operation is finished, an operator carefully extracts the parts from the build box and clear away the remaining powder thanks to brushes and air blowers. After these processes, the items are separated from the runners, cleaned and bead-blasted to remove the remaining metallic powder. The product can now be finished according to your choice. In our site currently you can select steel material.
FDM

(Fused Deposition Modeling) TECHNOLOGY

FDM is one of the most common 3D printing technology, because of the lowest price of printers and printing material (filament). Fused Deposition Modeling (FDM) is an additive manufacturing technology that builds parts up layer-by-layer by heating and extruding thermoplastic filament. It is also called a plastic wire melting method. Ideal for building durable components with complex geometries in nearly any shape and size. FDM is the only 3D printing process that uses materials like ABS or PLA or PETG. This means FDM can create custom parts and prototypes with outstanding thermal and chemical resistance and excellent strength-to-weight ratios. The thickness of the layers is approx. 0.2 mm.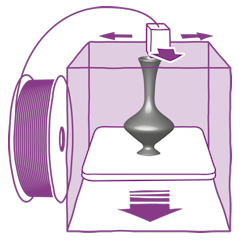 SLA (Stereolithography) TECHNOLOGY
SLA printing is all about precision and accuracy, so it is often used where form, fit and assembly are critical. It is capable to produce objects and gifts with a very smooth surface. Stereolithography is a laser-based technology that uses a UV-sensitive (photopolymer) liquid resin. A UV laser beam scans the surface of the resin and selectively hardens the material corresponding to a cross-section of the product, building the 3D part from the bottom to the top. The required supports for overhangs and cavities are automatically generated, and later manually removed. The tolerances on an SLA part are typically less than 0.05mm, and it offers the smoothest surface finish of any additive manufacturing process. Considering the level of quality SLA can achieve, it's particularly useful for creating highly precise casting patterns as well as functional prototypes, presentation models, and for performing form and fit testing. ly removed.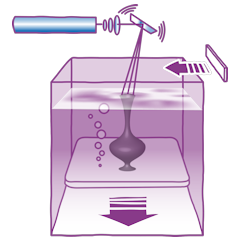 ---